BusinessLine's Cerebration 2023, one of India's premier corporate quiz championships, is back – this time in a hybrid format – the prelims and regionals are online, and the national finals offline. We're calling all corporate executives, business professionals, B-school students, and MBA aspirants to gear up. Prepare to showcase your knowledge and seize the opportunity to win the most coveted intellectual title, along with a chance to take home prize money worth up to 1.5 lakhs.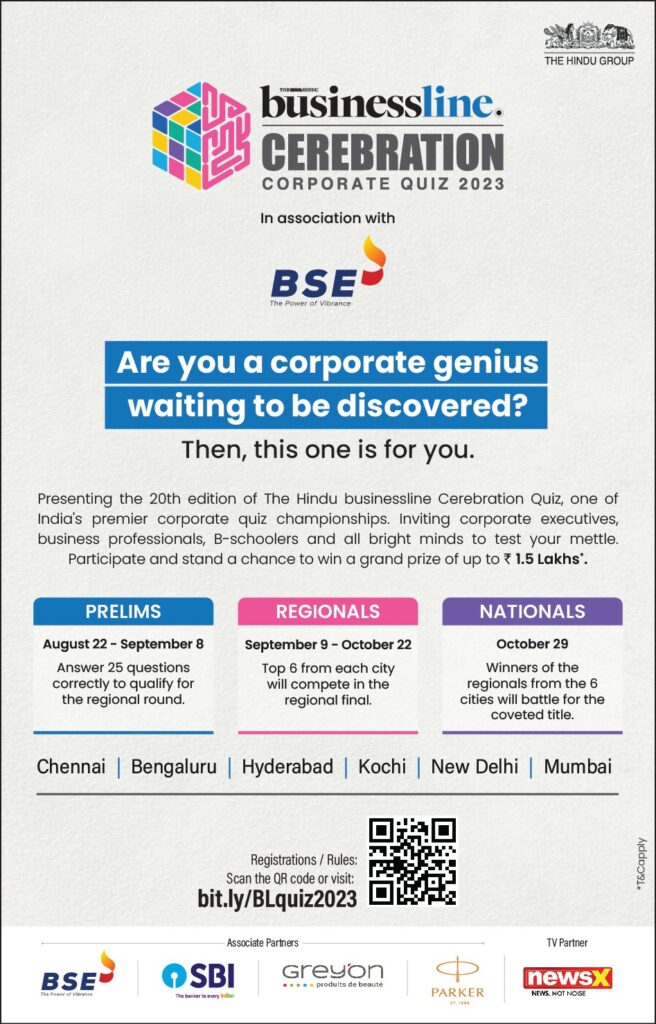 Helmed by Quizmaster Ajay Poonia since 2021, the quiz has become a much-anticipated monsoon quizzing championship where participants take part in this high-intensity event from the comfort of their homes. With thousands of participants from across India registering and participating in the preliminary rounds, only 36 qualify for the regional finals. These regional finals take place for participants registered from the six cities of Chennai, Bengaluru, Hyderabad, Kochi, New Delhi and Mumbai. The winners from each of these cities then make their way to the national final that will take place this year in BSE, Mumbai.
Registrations for the preliminary round are open till September 8. Visit – https://cerebrationquiz.thehindubusinessline.com/Home.aspx
Good luck!