Seeing the growing popularity of performing art forms in Odisha, thanks in big part to the national fame achieved by Prince Dance Group, Odisha's only homegrown English daily, OrissaPost decided to do something for another performance art form. The year was 2016, and the minds at OrissaPost decided to revive the sport that delves deep into the performance of the mind.
Enter Mettle Meet, a 2-day competition for students of schools and colleges to rack their brains and prove their mettle amidst the finest of their kind in Odisha. In the 5 editions since, a quizzing extravaganza that started with the aim of reviving quizzing has carved a niche for itself to take the lead in enabling quizzing to thrive in Odisha. After what transpired in the 2023 edition, safe to say quizzing in Odisha doesn't need reviving anymore, since it is thriving already.*
Here's a short review, to argue in favour of the above premise, from the QM's PoV.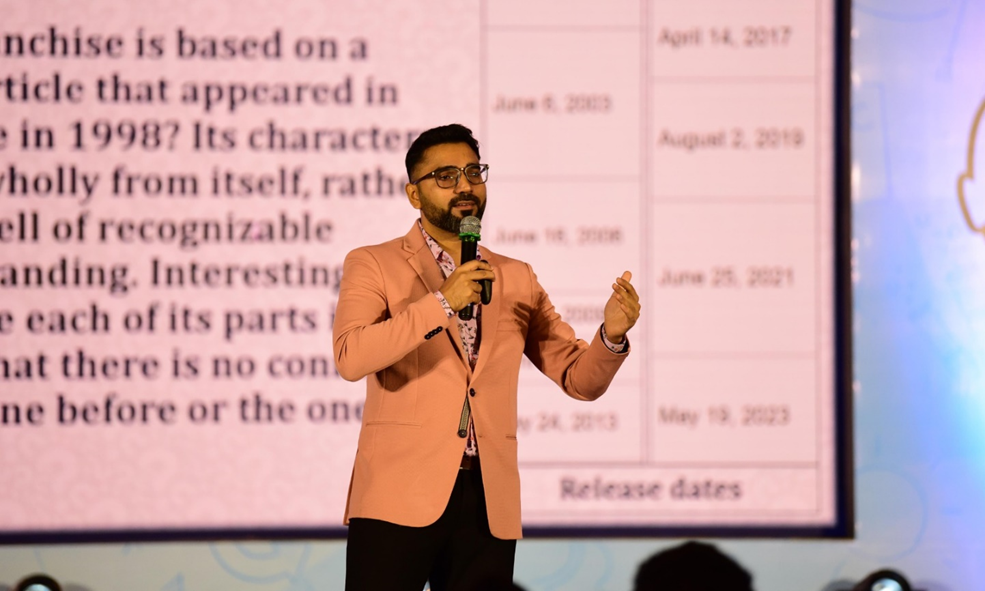 Spread over 2 days, a format Mettle Meet has seen since 2017, Day 1 saw both the preliminary rounds taking place – for school students and for college students. Both quizzes had 35 questions each and required participants to go beyond just answering the most questions, i.e., employing some strategy if they were to qualify for the big final the following day. Qualifiers for Day 2 below-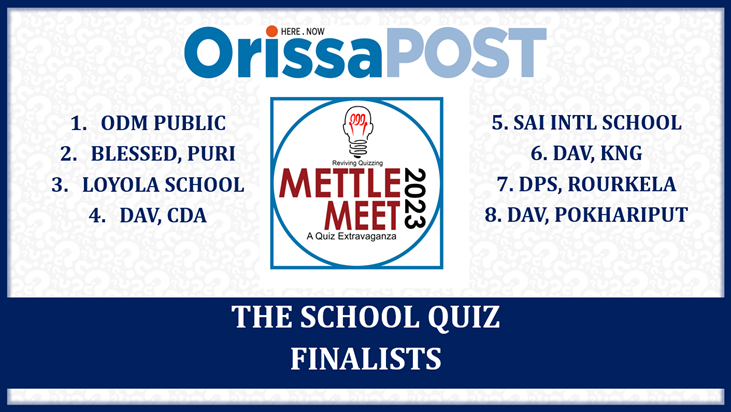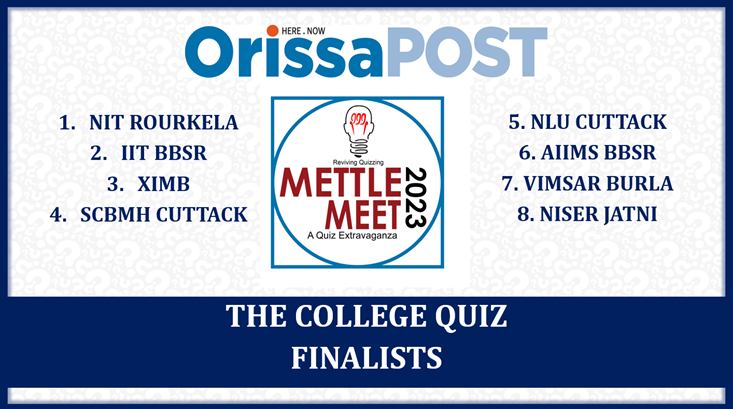 And so, onwards to Day 2. The day began with the QM promising to live up to his promise of showcasing a new style of quizzing where mugging and rote learning of trivia don't matter as much as applying what one would have come across in their daily life. And to treat quiz questions as problems in search of a solution instead of a general awareness test needing regurgitation of mugged-up facts.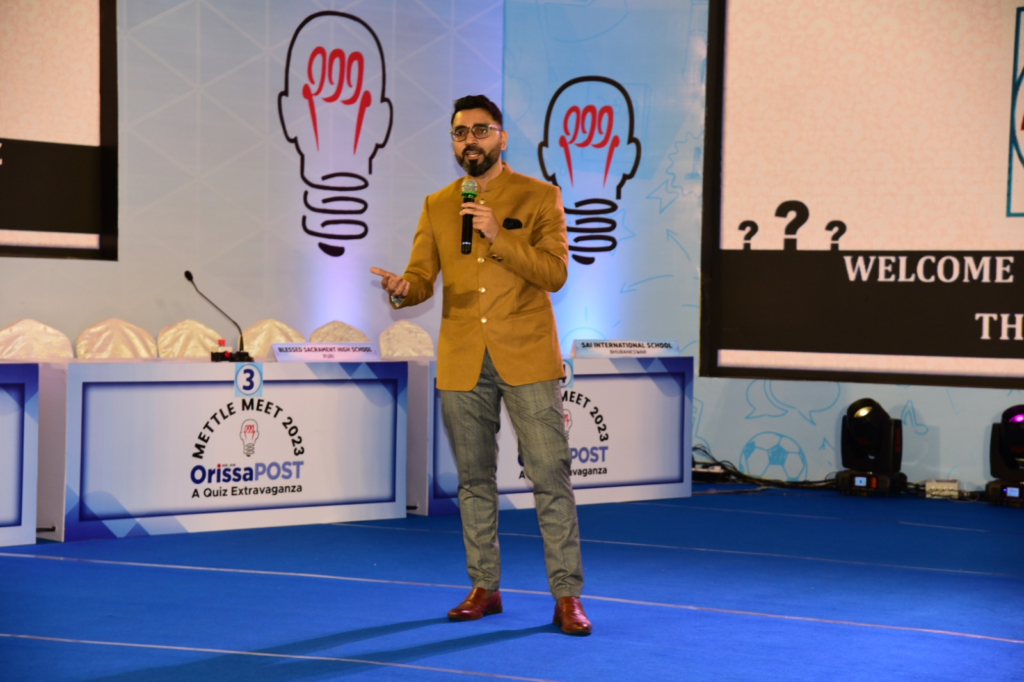 The school quiz final comprised one former podium finisher, one 2x podium finisher and one former champion in its ranks. Halfway into the quiz, it was evident that the strength of Odisha quizzing isn't concentrated in the learning centres of the state – Loyola (Bhubaneswar) and DAV (CDA – Cuttack) found themselves in a close fight on top of the table with 53 and 51 points, respectively, and Blessed Sacrament (Puri) and DAV (Kalinganagar) embroiled in a battle of their own for third at 39 and 35 points, respectively. The once-in-a-lifetime format for round 4 (I urge you, viewers, to watch and revel in the joy of cracking the questions yourself in the video), for I don't think I can reproduce it now that it is out there in the wild on YouTube. As points got split between multiple teams on each question, the teams got closer to each other than before. DAV CDA climbed up to 66, as five other teams bunched themselves within 19 points of each other from 50 to 31. The final round was quite literally a sprint to the finish, as the lead kept changing hands multiple times till finally Blessed Sacrament (Puri), who let luck rest on their lap along with Loyola (Bhubaneswar). When DAV (Kalinganagar) pounced on the last question, they forgot the crucial rule of doubling an answer. This lack of composure meant they finished 4th, just 4 points behind Blessed at 59 and 8 points behind Loyola at 63. This tussle amongst others coupled with Loyola's brave yet unfortunate negative on the penultimate question meant 2x former podium finisher DAV CDA-Cuttack's elusive dream of being a champion was fulfilled by 3 points.
The college quiz lineup counted one former champion, one 2x podium finisher and a few teams who I was later told had requested OrissaPost for the invite for they had worked hard and promised to do well. Halfway through the competition, the mature battle-hardened college participants decided to form a platoon behind AIIMS Bhubaneswar which was comfortably leading the pack at 52, while 3 other teams – NIT (Rourkela), NISER (Jatni), and NLU (Cuttack) – at 27, 25 and 20 respectively. The penultimate round was a double whammy for AIIMS as they lost 5 points themselves and others thinned the gap. Keeping AIIMS' 47 in sight was VIMSAR (Burla) at 35, who in turn was in the vision of NISER (Jatni) and NLU (Cuttack) at 30 points each. NIT-Rourkela, in real threat of losing their former runner-up and champion sheen at 27 was being crowded by the Bhubaneswar teams of XIM at 25 and IIT at 20 points. The last round, as the name itself suggested offered a fair bit of trouble to all teams as positives and negatives were distributed by the QM in perhaps equal?! measure. Although VIMSAR's strategy and sense of humour kept us all glued to the edge of our seats. And coming to the party late in the game with some craftily calculated and engineered answers was IIT Bhubaneswar scraping through into third place at 38 points, just 8 points clear of NLU and NISER and 3 clear of XIMB who just one question prior placed themselves at third place. But it was the befitting final question about the success and failure and (fingers-crossed) hopefully successful story of ISRO's moon landing mission. How soon that would happen is something we're all waiting to see but being on the moon themselves was AIIMS Bhubaneswar with that final answer pipping VIMSAR's 65 by 2 points at 67 to take the title home after coming close twice previously.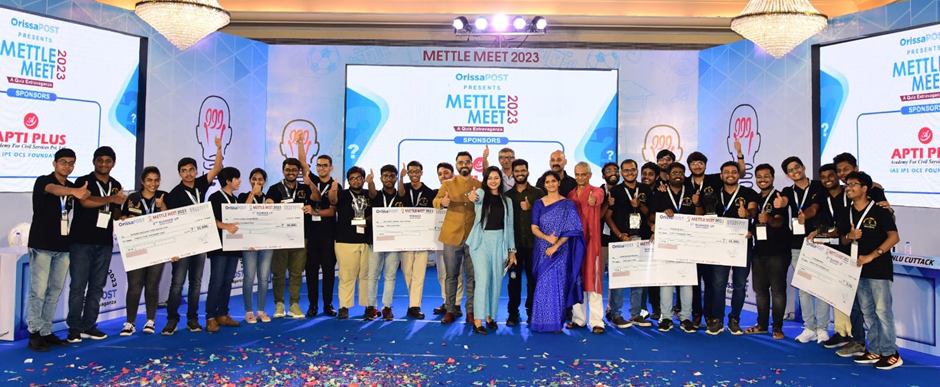 *Credit where credit is due, the "reviving to thriving" journey is inspired by OrissaPost editor Mrs Adyasha Satpathy who helped put words to my thoughts when in a private discussion I told her how I was struggling in an interview to OrissaPost staff to find the right words for a path for future editions of the quiz. In the interview, I said we need a new motto for MettleMeet for quizzing has comfortably revived in Odisha, she then said something to the tune of "it is indeed thriving". Thank you for the help ma'am 😊